Skip to product information
My Goat BFF Customizable Dog Tag Necklace
Regular price $79.95 Sale price $39.95 Save 50%
So you found our customizable and oh-so-playful "My Goat BFF" Dog Tag Necklace! This one-of-a-kind necklace is designed especially for goat owners who want to celebrate their beloved fur friends in a unique and personalized way.
With the option to upload your own picture, you can showcase your favorite goat's adorable face on the front of the dog tag pendant. Imagine wearing a necklace that features your own goat's cute and mischievous expression - it's sure to be a conversation starter wherever you go!
But that's not all - you can also add a playful engraving on the back of the pendant. Whether it's a funny goat-related quote, a personalized message, or even a playful inside joke, you can make this necklace truly one-of-a-kind and meaningful to you.
Made from high-quality materials, this dog tag necklace is not only stylish but also durable, ensuring that it will last for years to come. The pendant hangs from a sturdy chain, allowing you to wear it comfortably every day and show off your goat love with pride.
It's not just a necklace, it's a special keepsake that captures the unique bond between you and your goat. It's a fun and playful way to express your love for these adorable and mischievous animals while also showcasing your own creativity and personal touch.
Perfect as a gift for yourself or for the goat lover in your life, this customizable dog tag necklace is sure to bring joy and laughter. So why settle for ordinary jewelry when you can have a truly unique and playful necklace that celebrates your goat BFF in style? Create your own "My Goat BFF" Dog Tag Necklace today and wear your goat love with pride!
Purchase This Best-seller and We Guarantee It Will Exceed Your Highest Expectations!
➜ Our patent-pending jewelry is made of high quality surgical steel with an 18k gold finish option.
➜ Our jewelry is personalized in the U.S.A by awesome working moms just like yours! We hire and train working mothers and pay a living wage. We are proud to support strong communities and keep jobs in America!
This Jewelry Item Is the Perfect Keepsake! Whether for Yourself or a Loved One.
➜ Add the perfect photo of your loved ones, friends, or even pets - to create a truly unique piece of jewelry!
➜ If the custom engraving option is available, engrave onto the back of the pendant your loved one's name, your wedding date, an anniversary, or anything else you want to remember and keep you close to her heart. Each personalized piece offers exceptional craftsmanship that is fit to be an instant classic in your family.
We Offer a 100% Happiness Guarantee
➜ If you're not 100% satisfied with your purchase for any reason, please contact us and we will make it right. Your satisfaction is our ultimate goal.
Product Dimensions
➜ Luxury Military Necklace: 24" (45-56cm) with upgraded clasp
➜ Dog Tag: 28.5mm x 51mm
Shipping Policy:
We ship to all locations within the United States.
Orders are typically processed and shipped within 4-7 business days.
Shipping rates will vary based on the size and weight of the item(s) and the destination.
Expedited shipping options are available for an additional cost.
Recommended Products
By showcasing products that are frequently purchased together or based on a customer's browsing and purchase history,
it can help drive additional sales and increase order values.
Recently Viewed
Helps build trust and credibility with new shoppers, encouraging them to make a purchase.
Recently Wishlisted
Add on optional description to this section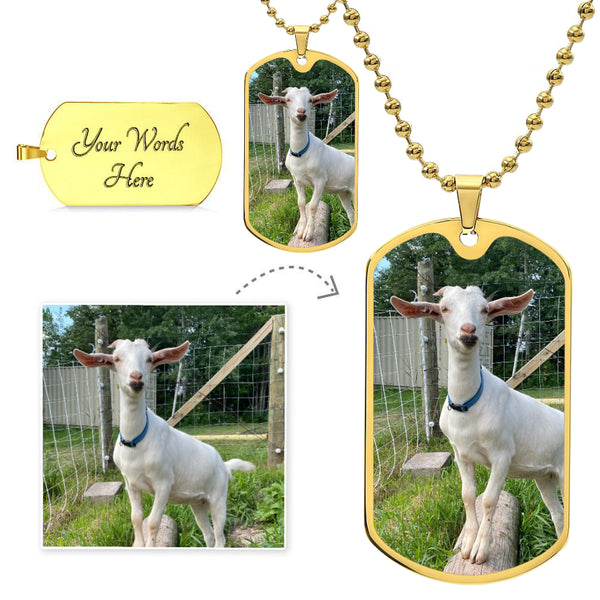 My Goat BFF Customizable Dog Tag Necklace
Regular price $79.95 Sale price $39.95