Skip to product information
Goat Lover's T-shirt Club
Regular price $35.50 Sale price $25.00 Sold out
Click Here to Join the Waitlist and be notified when the Goat Lover's T-shirt Club launches!
Each month you will receive a soft, compfy tee with fun goat designs and sayings.
These t-shirt are everything you've dreamed of and more. They feel soft and lightweight, with the right amount of stretch. It's comfortable and flattering.
Because even a Crazy Goat Lady deserves to be pampered!
Plus, it shows your love of goats!
What is the Crazy Goat Lady T-Shirt Club?  It's a monthly subscription to unique, soft tees, all handpicked by the Crazy Goat Lady.  Our t-shirts feature super soft fabrics, unique designs, fun colors and a super comfortable fit.  These designs are made for our Crazy Goat Lady subscription t-shirt club and are available at 30% OFF retail price ONLY to our subscribers!
This is for a subscription to our Crazy Goat Lady Monthly T-Shirt Club. Your first charge will be on the 1st of the following month. For example, if you sign up on February 15th you will be charged immediately and You will receive your first t-shirt in March. Your next charge will be on April 1st. Your credit card will then automatically be charged on the 1st of EVERY MONTH.  Price Will NOT Change per Month!  All t-shirts are Final Sale as they have been printed just for the subscription group.
FAQ
How does the sizing run on the t-shirts?  All shirts are Unisex sized for the perfect fit!  Available in Adult Sizes S-3XL.  (For 3XL, style and color may vary based on availability at printing.)
When can I expect my monthly shirt?  Your payment draft will draft on the 1st of each month, shirts will be packed and ready within 5 days of that payment.
Shipping Policy:
We ship to all locations within the United States.
Orders are typically processed and shipped within 4-7 business days.
Shipping rates will vary based on the size and weight of the item(s) and the destination.
Expedited shipping options are available for an additional cost.

Recommended Products
By showcasing products that are frequently purchased together or based on a customer's browsing and purchase history,
it can help drive additional sales and increase order values.
Recently Viewed
Helps build trust and credibility with new shoppers, encouraging them to make a purchase.
Recently Wishlisted
Add on optional description to this section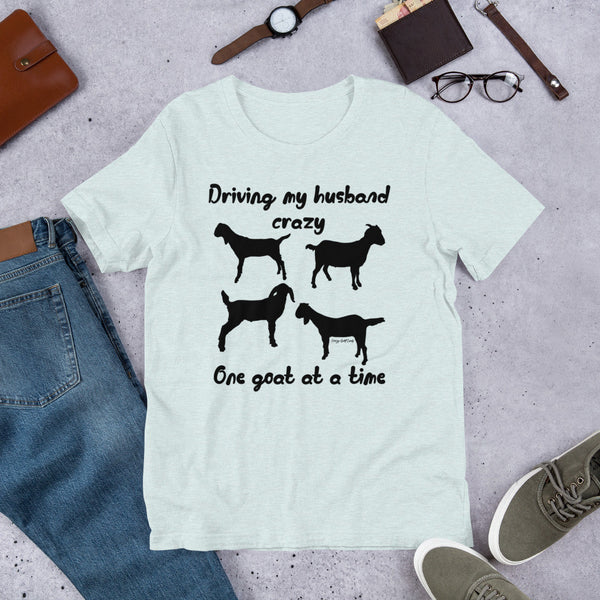 Goat Lover's T-shirt Club
Regular price $35.50 Sale price $25.00